Kleerwater™ Sizing Utility
One hour rainfall event expected once on the average in 25 years.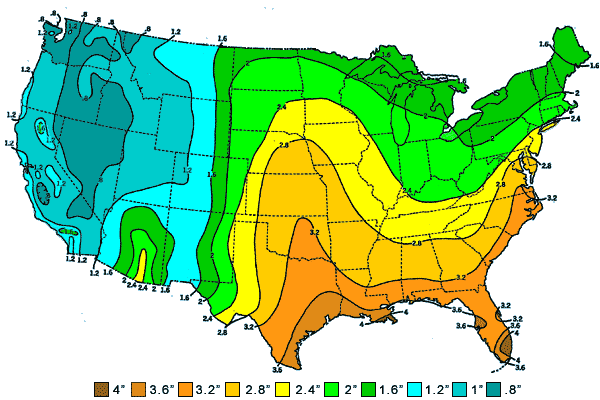 Notes
Area = Length × Width
All areas must be supplied without commas (Example: 1000).
If your are unsure of your average hourly rainfall, consult map above.
Kleerwater™ and Modern Welding Company are not liable for misrepresented data on map above.
This data should be used soley as a guideline for separator sizing.
Other known and unknown factors may affect separator sizing. For interior floor drain applications, the international plumbing code may apply and may require a larger separator.
Design Calculations
Drainage Area: sq ft
Average hourly rainfall: in/hr
Influent flow rate: GPM
Separator Specifications
Separator size: gallons
Total capacity: gallons
Oil storage capacity: gallons
Tank diameter:
Tank length:
Inlet pipe size:
Outlet pipe size:
Maximum flow rate: GPM
Trouble?
If you can't find the documents you are looking for, give us a call.
We'd be happy to help!
Request a Quote For Your Next Project
Once a request is submitted, we respond within 24 hours. Guaranteed.